The first time I rented a car in Croatia and drove along the Dalmatian coast back in 2014, I was astonished – and not just by the stunning scenery. I'm very familiar with the Dalmatian's "pomalo" philosophy (take it easy; relax) but apparently, it applies to everything except for driving. Even though I was driving the posted speed limit (and maybe a few kilometres over, if I'm being honest), it seemed every third car was passing me at breakneck speed on dangerously curvy coastal roads. It made no sense: how could so many of these people be in a hurry when they celebrate the art of moving slowly? If you'd prefer not to sweat during your drive, I recommend leaving the hard work to the pros at Octopus Transfers. They'll take you anywhere in Croatia, from Dubrovnik to Plitvice Lakes National Park and beyond – safely and in style at a competitive price. Still raring to go on your own? Best of luck, and keep the following in mind.
1. Receive a Discount for Paying Speeding Tickets on the Spot
No, the police officer isn't pulling a corrupt move by letting you know you'll get half off your fine by paying him right now. I, cough, was pulled over for speeding on the magistrala (Adriatic Highway) for the first time this past week and the officer quoted me a fine of 500 kuna ($75 USD). Ouch, especially for the residents of Croatia whose take home salaries on average are quite a bit lower. But then, he spoke those magic words: pay now and your fine is only 250 kuna. Done and done! He also asked me what my father's name is (such a Croatian thing) and wrote it on the ticket – I'm guessing this only applies if you're having the conversation in Croatian. When I got back home, I researched this "discount" which seemed to smack of shadiness but is, in fact, legit. Before the paying on-the-spot option became law, up to 80% of traffic violations went unpaid. So always carry cash on you (though I've read some police officers have a credit card machine or will take you to a nearby ATM) and don't ever leave your driver's license at home.
2. International Driving Permit: Get it or Forget it?
For the first time, I decided to get an International Driving Permit (IDP) at my local AAA office in the United States. Why? It's valid in 150 countries worldwide should I take a road trip to a country whose border agents demand an IDP and I got spooked after reading the fine print on some rental companies' disclosures. Basically, forget one item listed in their voucher and you could be out both a rental car and a deposit. And because the permit costs only $20 USD and takes mere minutes to receive, I figured it was a safe bet. So far, I haven't needed it however it did come in handy that day I was pulled over for speeding. I accidentally left my driver's license at home (purse switch malfunction!) but had the IDP in my glove compartment. The police officer accepted it in lieu of my license. Phew!
3. Stay Alert, Because Anything Goes
Earlier this week I was heading north on the magistrala toward Omiš when a 4-wheeler cut in front of me and stayed on the highway for a good ten kilometres. Illegal? Not sure, but always expect the unexpected when driving roads in Dalmatia. Whether it's a family of tourists brazenly walking against the guardrail (but also in your lane) or an elderly baba leisurely strolling across the road in head-to-toe black on a 37 °C day, you never know what's ahead after the upcoming curve. And you should especially hope it's not a police officer if you're speeding!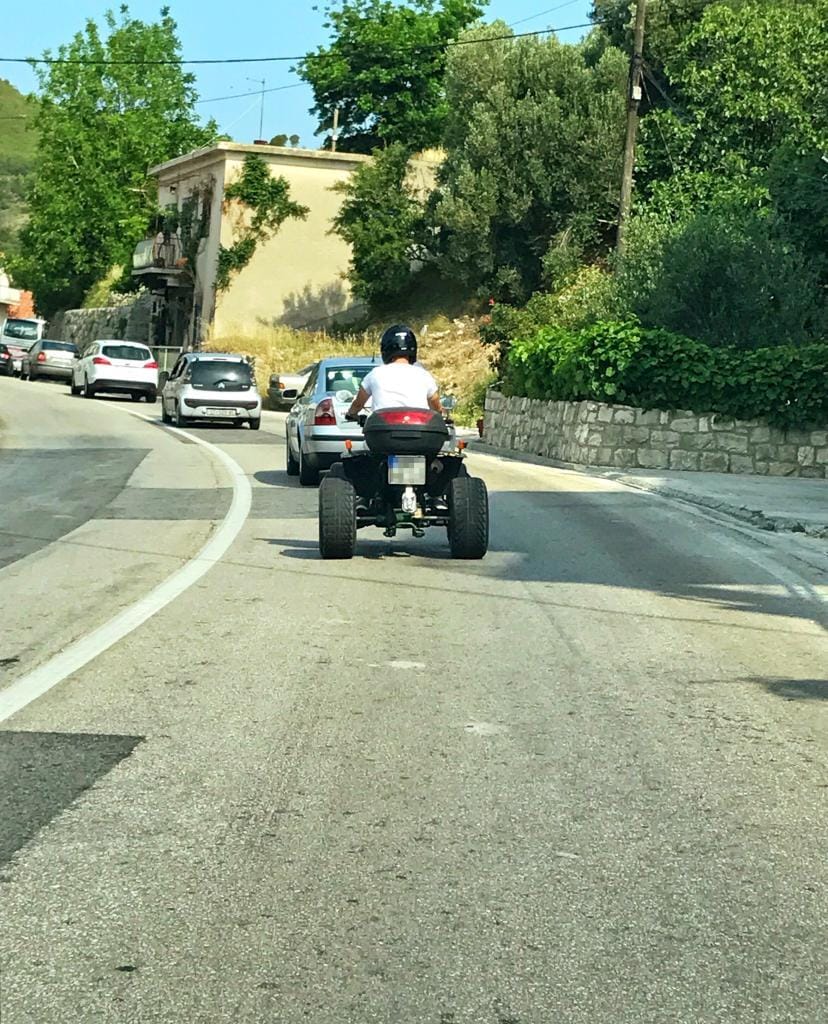 4. Learn How to Drive Manual, Immediately
Renting cars in Dalmatia is expensive, so book far in advance. But renting automatic transmission cars during high season is extremely expensive. For instance, I just compared a manual vs. automatic transmission quote for compact class cars for the period of July 1-31: $1306 vs. $2136 USD, respectively (source: RentalCars.com). Insane, right? You should also plan on downsizing (I'm currently in a Volkswagen Polo) as parking spots are super tight and roads, narrow. Pack light too, as these small cars come equipped with even smaller trunks. Also, don't forget to check your credit cards' benefits and perks. I usually stick with my Chase Sapphire Preferred as it incurs no foreign transaction fees and you can decline the rental agency's insurance – because the card comes with primary car rental insurance (for up to a 31-day rental) if you use the card to secure the rental! If you're staying longer, just break up your rental period. Otherwise, you're looking at additional daily fees for insurance through your rental car broker or provider. And you definitely want insurance, because some of these agencies nickel and dime for every scratch (and remember, you'll be parking in some tight spaces). But don't throw in the towel when it comes to car rental, because the views along the Dalmatian coastline rule and make all the rental woes worthwhile.
5. Capturing Those Instagram-Worthy Photos
Yes, we all want (need?) to make everyone back home jealous by posting that stunning cliffside panorama, but practice safety when it comes to capturing those shots. Don't be the asshole who pulls over on a non-existent shoulder just so you can snap a blurry photo on your iPhone 4s while other drivers are forced to enter oncoming traffic's already narrow lane. You'll notice countless pull-over areas meant for safe stopping, taking photos, or even enjoying a picnic. And please don't take photos or videos whilst driving, not only is it supremely dangerous but you'll only get crap photos that'll end up getting deleted. Now buckle up, drive the speed limit and enjoy the magnificent scenery along the way!