The drive from Rovinj to Motovun took less than an hour and offered postcard-worthy views of unspoiled nature on narrow, winding roads. Renting a car in Croatia is well worth it, despite the almost unreasonable costs associated with renting automatic transmission vehicles during high-season. Accessing small towns in inland Istria is more complicated sans car and besides, you'll fondly look back on the experience of getting lost on Istrian back roads. For me, it's about the journey and the destination!
Not a thousand photos can prepare you for the sight that is the medieval village of Motovun dramatically perched on a hill 886 feet above sea level. We pulled over in a nearby restaurant's parking lot to capture the iconic shot as we approached the town from the south.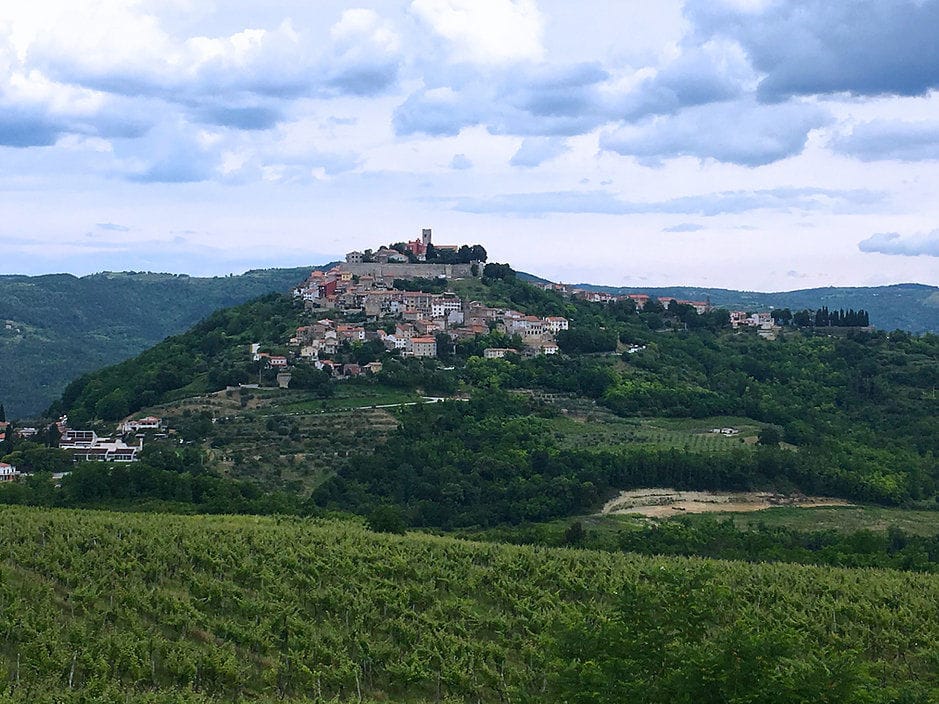 Once parked at the base of the hill, we boarded a bus that climbed the steep grade and dropped us off in the thick of the ancient walled city. Small shops selling local olive oil, wine, cheese and truffles beckoned while there's a panoramic view waiting to be discovered around every charming corner. This was nothing like I had ever laid my eyes on in other parts of Croatia: breathtaking rolling hills, dense truffle-filled forests, grape vines dancing with olive trees.
About those truffles. If you've watched Anthony Bourdain's No Reservations episode covering Croatia, then you've already met Konoba Mondo. An old world restaurant serving generous portions extravagantly topped with local truffles – subtle black or intensely-scented white – this eatery will easily coax out even the most closeted of gourmands. Wine, olive tapenade with truffles and fresh bread, tomato soup covered in truffles, more wine, and pillowy gnochhi blanketed with – you guessed it – more truffles. This is not a meal for the faint of heart!
We spent the rest of the afternoon drifting from one beautiful scene to another, exploring the Venetian square, the Sveti Stjepan church, and the inescapable green countryside. Instead of taking the bus back down – and in an attempt to burn off some of that indulgent lunch – we bid adieu to Motovun by descending down the hill via foot. I'd like to think it was the proper way to say goodbye.