When people think of truffles, most associate these umami-rich hidden treasures with Italy – specifically, the northwestern Piedmont region. Or Villefranche-du-Périgord, France. Or maybe, the mind drifts to medieval Aínsa, Spain. Meanwhile, overdue buzz has been catapulting the new 'it girl' of the truffle world – Croatia's Istrian peninsula – to soaring popularity.
If you've visited Croatia, you've probably sipped on remarkable wines produced in the Istria region such as Malvasia or Teran. Once the word got out that Istria is the preeminent Croatian destination for those seeking an inclusive epicurean experience built on seasonal ingredients and indigenous wine varietals, more and more tourists began designing culinary road trips through the region. Throw in the added lure of truffle-laden forests – along with sharing the same latitude as a certain superstar neighbor – and inland Istria was dubbed the 'New Tuscany'. But, as it's still under-the-radar in comparison to its blown up Italian cousin, perhaps it would be more appropriate to call it the 'Old Tuscany', the way Tuscany used to be. Just thinking aloud.
But I digress. Meet lovely Buzet, a tiny town perched high above the Mirna River. Though not quite as famous as the neighboring hilltop town of Motovun, Buzet is known as the 'City of Truffles'. And look at those overachieving, voluptuous grapes! They served as quite the welcome to the family-run Prodan Tartufi estate, where we'd soon be embarking on a private guided truffle hunt.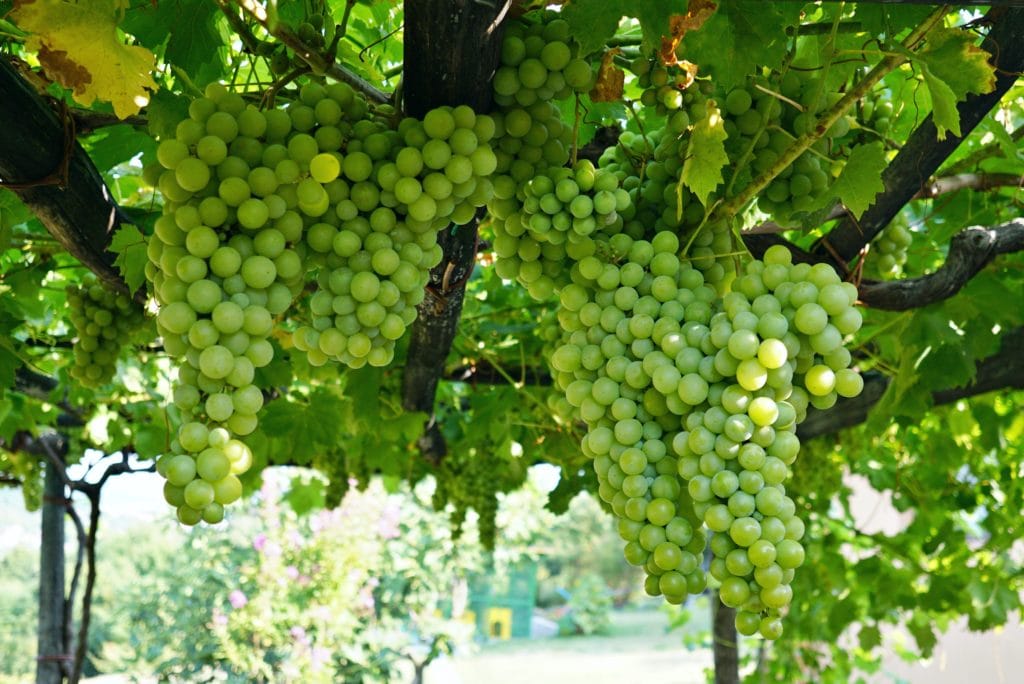 For some time now, I had wished to explore the romantic Istrian countryside with dogs at my side, hunting for the elusive white truffle. So when Višnja Prodan reached out to me on Instagram, it felt as if fate had intervened. As we drove up I knew we had chosen the right place for our tour – both mother and daughter waited for us outside, the way it's done in old Europe. I was completely taken by the palette of green so liberally applied between the surrounding forest and terraces covered with hanging grapes. Croatians know how to get a party started (especially in the morning!), and we were officially welcomed as guests and new friends with shots of housemade brandy. Višnja, a third-generation truffle hunter, talked about the history of truffles in the region before divulging the details (and perhaps a few secrets) surrounding the art and science of the truffle hunt.
And then we were off to the surrounding forest! We followed our canine truffle-hunting experts, Mel and Pico, as their super-powered noses led them from patch to patch of nutrient-rich soil. It took only mere minutes for the dogs to detect an unearthed truffle and then show us the spot by rapidly pawing at it. They've been meticulously trained to excel in this special line of work and their moment to shine had arrived! Višnja began to dig and scrape the area around the truffle before carefully removing it from the ground.
Following a successful extraction, we continued on our journey and were led to several more truffles including one fairly-large find. Have you ever held a truffle in your hand and deeply inhaled, like Višnja in the below photo? I can't thing of any one thing on this planet that emits a similar aroma: this wild, intoxicatingly earthy, pungent, curiously musky, decidedly seductive, delight-inducing fungus. Much like cilantro or black licorice but a much more expensive epicurean vice, truffles are deeply polarizing. One sniff, one bite; that's all it takes to forever be aligned with the side your palate has chosen.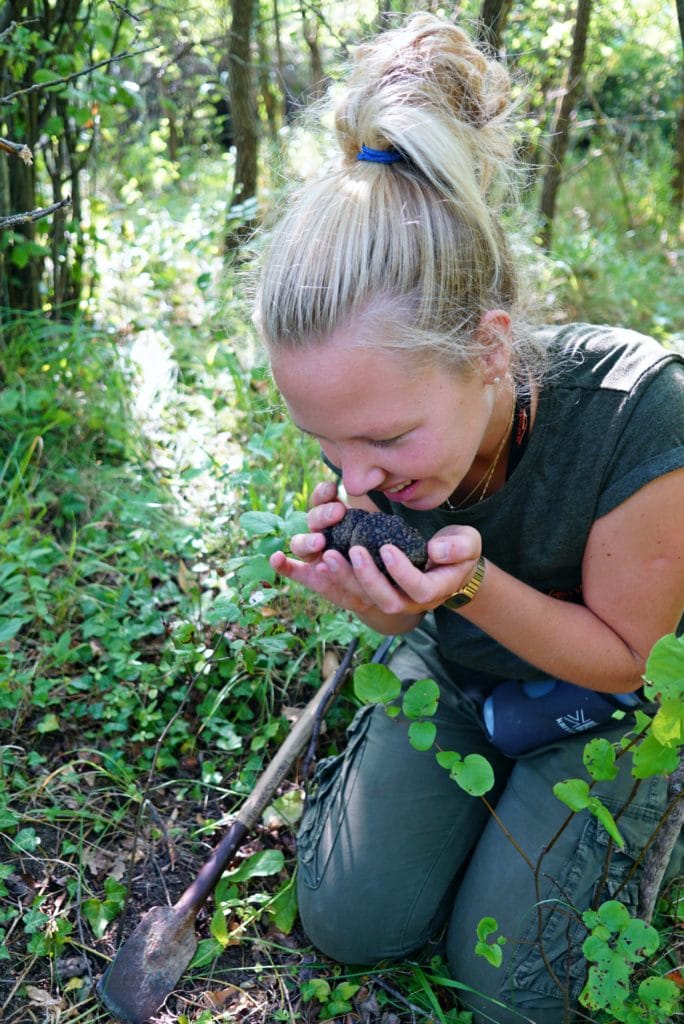 On our way back to the estate, we stopped to admire a hazelnut tree. No matter how much time I spend in rustic central Istria, I remain in awe of how the diversity of the terroir and climate work harmoniously together to produce so much natural beauty and deliciousness.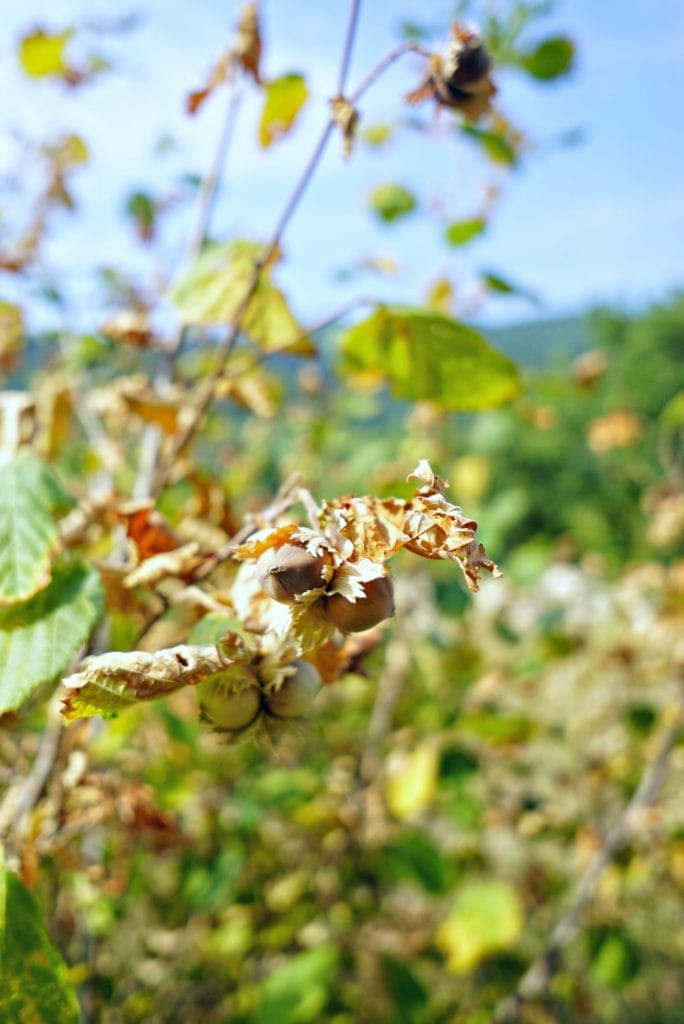 The time has come for us to weigh our treasures on one of several available scales. We fared quite well for our first hunt, no? Of course, Mel and Pico deserve all the hard-earned credit.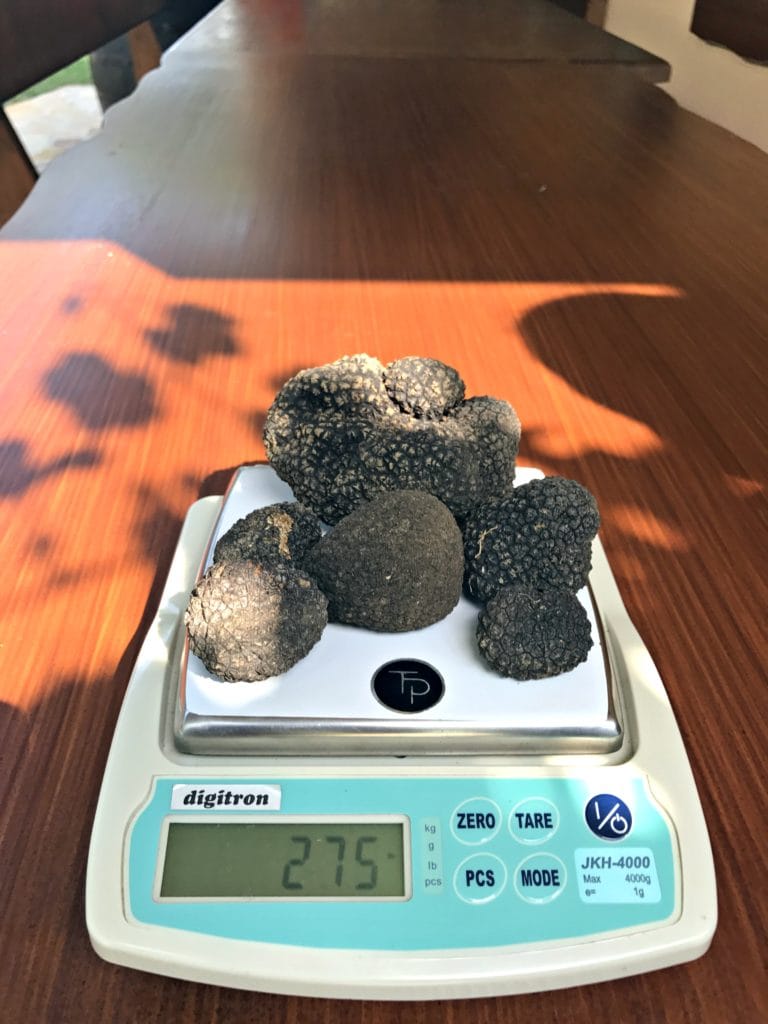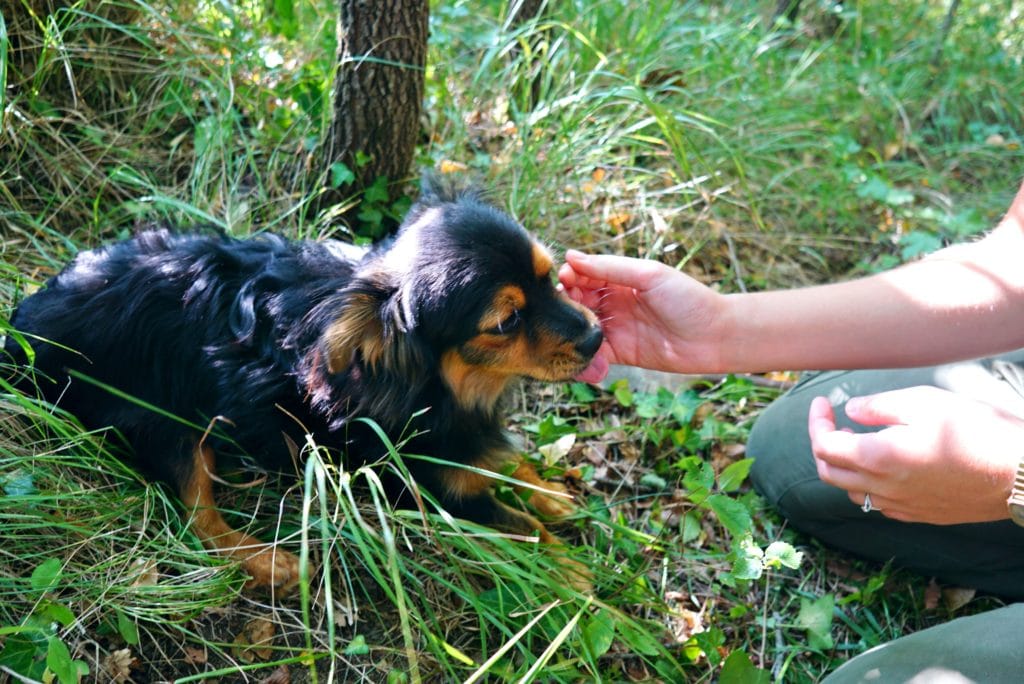 Time to eat! Višnja's mother Vanda lovingly prepared her signature breakfast dish, scrambled eggs cooked with truffles and then topped generously with more shaved truffles. But our tour-turned-feast didn't end there: next we were served housemade cheese, honey and charcuterie alongside bruschetta – all spiked with truffles from quite literally, their backyard. Our adventures in hedonism were punctuated by a finale of ice cream topped with truffle-infused olive oil and paired with their estate-produced Malvasia wine.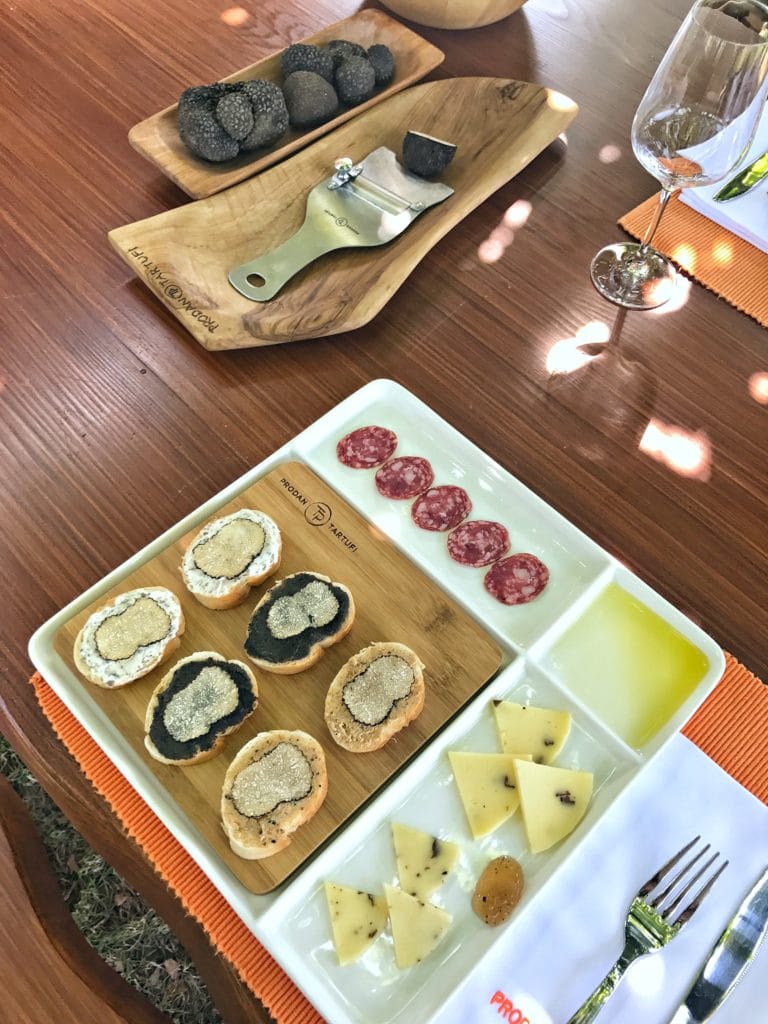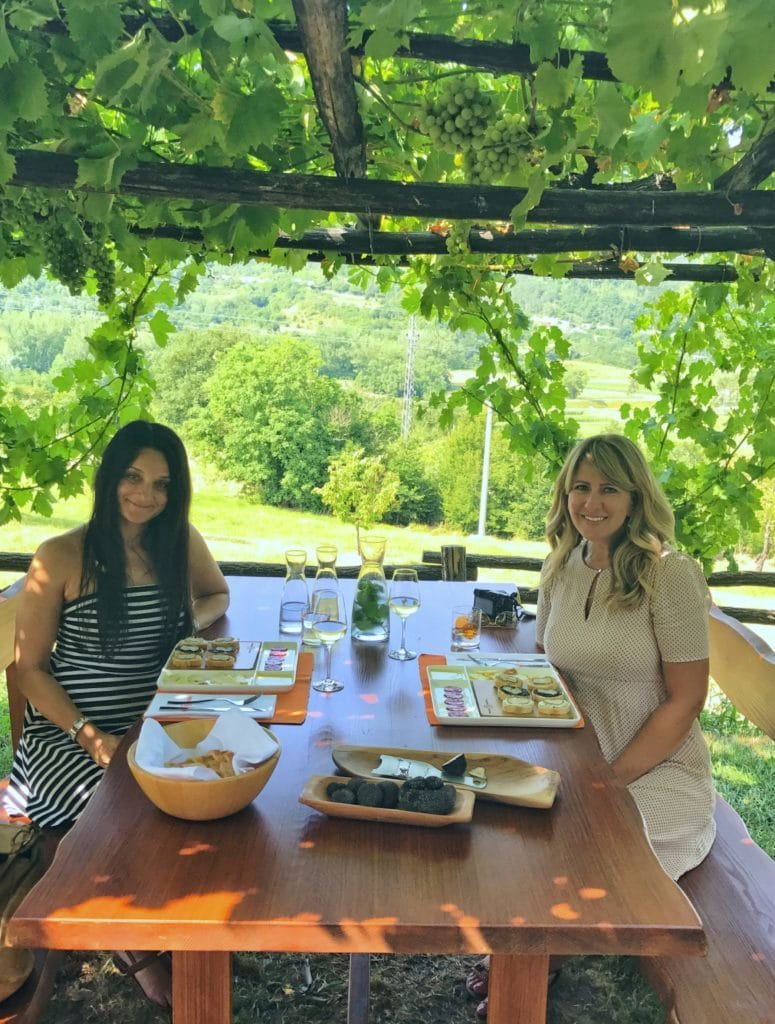 What a glorious way to spend a morning in the Istrian countryside! And don't forget that local truffle anything makes for wonderful gifts to bring loved ones back home. The Prodan Tartufi gift shop is stocked with black or white truffle products for even the most discerning gourmand – everything from truffle sausage, cheese, jams and honey to olive oil and whole or sliced jarred truffles! I stocked up so I could recreate my experience even months later by adding sliced truffles to my own version of buttery soft-scrambled eggs… in Chicago.
So happy we had the opportunity to meet Mel and Pico's little siblings, the resident truffle hunting puppies-in-training. Our truffle hunting adventure is one I won't soon forget, especially as I know I'll be back – soon, very soon. Thanks to the Prodan family for sharing their generations-old traditions of truffle hunting with us.
To book your own private truffle hunt excursion, send an email to info@prodantartufi.hr or call Višnja at +385(0)91 551 2796.