Like any wine-producing region in the world, Croatia makes a lot of great wine – and also, some not-so-great wine. But everyone owns a unique taste profile, and I tend to gravitate toward dry and acidic white wines and medium-to-full bodied reds that are easy on the tannins.
Thanks to wine importers like Blue Danube Wine bringing Croatian wines to the U.S., I've had the opportunity to become acquainted with wine producers such as Miloš and Bibich over the years. But the summer of 2016 marks the first time I actually visited the Bibich winery itself, which is located in hilly Skradin (about 5 miles east of coastal Šibenik). Affable proprietor and winemaker Alen Bibich was onsite the day we visited – he is most days, as he and his family live on the property – and he customized a paid tasting based on our individual taste profiles. This gave us the opportunity to try a sparkling, several whites and reds, and even the winery's flagship blend, the Bas de Bas red (they instructed us to pronounce the "s" even though you wouldn't en Français). Within the Bibich portfolio, my preference is for the easygoing reds, R6 (varietals Babich, Plavina and Lasin) and G6 (Grenache). Warning: don't try the Prošek-based Ambra dessert wine unless you have an affinity for the very sweet! Unlike most people of Dalmatian heritage, I'm not pro-Prošek. After we completed the tasting, we couldn't help but shop the local artisan wares. We ended up taking home several bottles of wine, as well as a superior grade Paški cheese produced exclusively for Bibich, a heavenly fig and cocoa spread, and lavender and olive oil body lotion. The lotion is based on a recipe conjured by Alen's wife and is now made just for them by a local entity. If you're shopping for discerning friends back home, do them a favor and gift them some of these local treasures instead of the typical mass-produced tourist junk. In fact, I may have enjoyed some of these "gifts" a bit too much and returned to the Bibich property a few weeks later to re-stock!
If you appreciate a creative coursed-meal format based on seasonal offerings and the slow food concept, then you can also make reservations for the 5 or 13-course tasting menu (priced at approx. $103 USD and $224 USD, respectively). Yes, it's pricey for Croatia but the meal is also thoughtfully paired with 5 or 13 different wines depending on the program you choose. It's no wonder Anthony Bourdain had difficulty keeping his composure post-meal at Bibich!
Some of my favorite Croatian white wines are produced by winemaker Ivica Matošević and the opportunity to visit his namesake winery presented itself whilst driving from Rovinj to Motovun. We navigated the winding roads via GPS which dropped us squarely in front of an unassuming, nondescript building. Indeed, we had made it to the winery! Though we didn't have an appointment, the staff cheerfully allowed us to grab a table outside and sit down for a guided yet casual tasting. They were generous too, allowing us to to taste every wine they had on hand and without a tasting fee. Or, it's possible they waived it as we each purchased an assortment of wine. My favorites? Definitely the wines comprising their Grimalda line. I thoroughly enjoyed both the red and the white, but it's the white Grimalda that stole my wine-loving palate. It's a heady blend of Chardonnay, Istrian Malvazija, and Sauvignon Blanc and Ivica and Co. have nailed the signature blend's ratios (50-25-25). If you're taking wine back to your respective country of residence, they make it easy for you by wrapping up the bottles in bubble wrap. As a side note, I'm obsessed with their label design!
If you have the room in your itinerary, I also suggest visiting the Bire Winery in Lumbarda on the stunning island of Korčula. There, a finicky grape called Grk – indigenous to the island – is skillfully grown and produced into a highly acidic, dry and aromatic nectar of the gods. Though I didn't have the chance to visit the winery this time, I did purchase a couple of bottles that were delivered to my Croatian home just 2 days later. Grk wine (especially a well-produced rendition like Bire's) can be extremely difficult to source, as it's very low production. Luckily, you can purchase it at Croatian Wine EU and have it delivered in Croatia and throughout most of the EU. Still, the Bire Winery in Lumbarda deserves a visit – you can even book accommodations on the property via their website!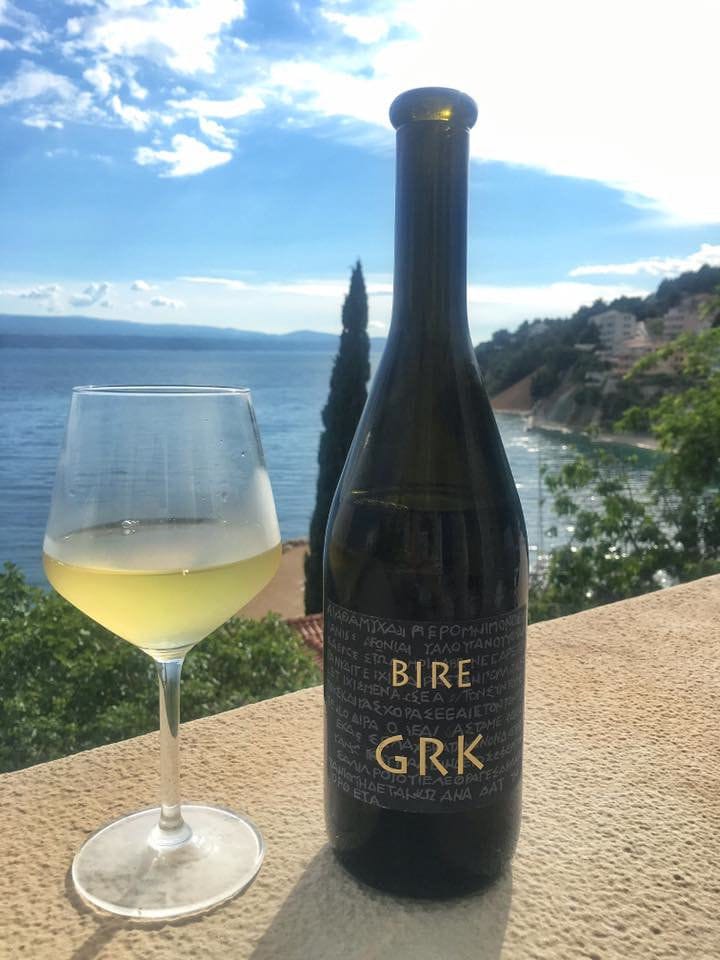 No matter your taste profile, you'll be sure to find a wine that makes your palate sing in Croatia. Enjoy!